Blogs
Submitted by Jim Warner on Mon, 09/02/2009 - 15:17.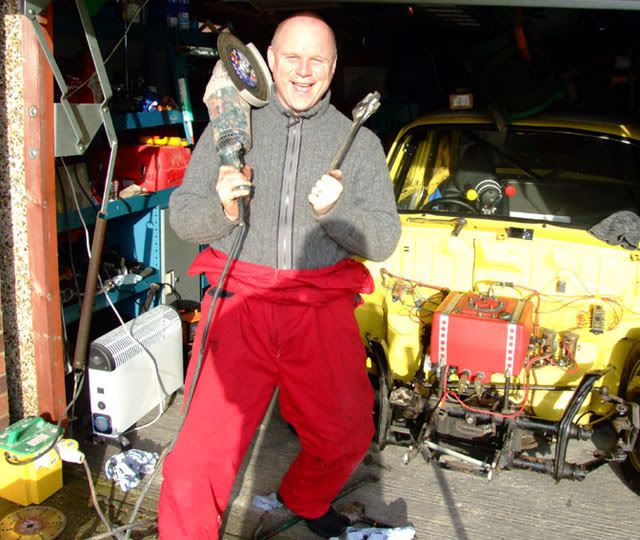 Submitted by Jim Warner on Mon, 09/02/2009 - 15:05.
Submitted by Jim Warner on Mon, 09/02/2009 - 15:02.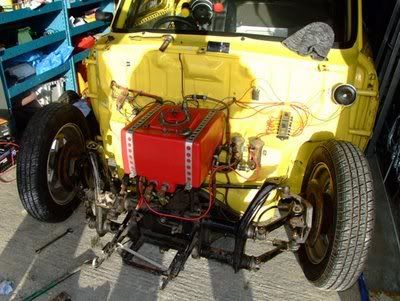 here's what we started with. a type 3 notchback dragcar with a type 1 framehead grafted on. the problem was that the front end was solid - no travel at all! this obviously made the car skip all over the road (or track) and was just plain dangerous!
the ideal would be a nice, springy front end, which would help transfer wait to the rear on launch, which would hopefully help the car hook up rather than breaking traction as it had been...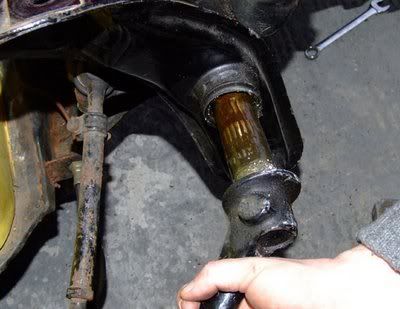 I started by removing the shocks, fearing they might be too firm or even seized, but that didn't help. so, after removing the spindles, steering etc. we could finally remove the arms - that took some brute force as they were seized solid... clearly our problem!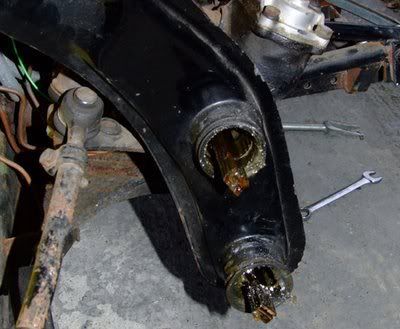 this beam had been narrowed about 5.5-inches - quite a lot. note also the lack of leaves.. i know that should reduce the spring rate, but it's not going to help the car land smoothly if it does end up pulling the front wheels!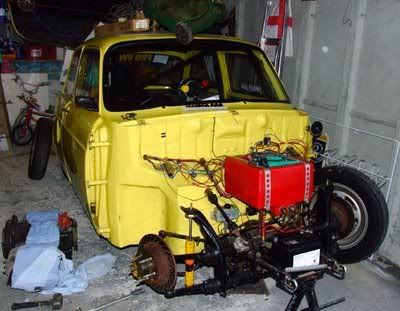 leaves replaced and trimmed, bearings greased and everything freed-up, the car was re-assembled and ready for a test drive. watch out for the upcoming vid clip showing the newfound 'springiness'. new dampers really helped

Submitted by VWDRC on Sun, 08/02/2009 - 20:42.
As the 2009 season fast approaches we've had a very interesting find from one of our members, Dave Dorson has managed to find a copy of the July 1988 VW Motoring magazine featuring a review of our first ever meeting on May 15th 1988!
Thanks very much to Dave for scanning them for us!
Submitted by VWDRC on Mon, 02/02/2009 - 17:41.
Finally, following a meeting in January, we are pleased to also announce the 2009 Committee and their respective roles:
Chairman and Webmaster
Chris Bray
Email chris@vwdrc.com
A member since 2004, Chris has raced both a Type 3 Fastback and latterly a number of Golf GTi's in the VW Sportsman class with two championship runner-up trophies to his name including 2008.
Chris is hungry to go one step better in 2009 and can currently be seen campaigning his Oak Green Golf GTi 16v.
Vice Chairman
Paul Jackson
Email jacko@vwdrc.com
Involved with the club since it's inception Paul was the driver of the European record holding Proteus-3 dragster that ran down into the 7's!
Treasurer and Membership Secretary
Richie Grant
Email richie@vwdrc.com
Richie Grant is the longest standing member of the VWDRC, having been a member for all of our 21 years yet he's looking to make his on track debut in his Type 3 Fastback in 2009.
Marketing, Merchandise and Events Co-ordinator
Abi Tether
Email abi@vwdrc.com
Abi has been a member of the club since 2005. She won the Sir Brian Burrows Rookie of the Year trophy in her debut season and reached two finals. She joined the committee for the 2008 season, and was awarded the Becky Sutton Memorial trophy for services to the club in that year. She has used numerous different race vehicles, including her '65 Samba 'Sambasaurus', a Corrado, Polo and a couple of diesels - a MkV Golf and a Skoda Fabia vRS.
2009 will see Abi compete in ANOTHER new race car - a Mk3 Golf VR6 Highline and it is widely believed that she holds the record for most race cars used in a season!
Public Relations Officer
Shane Rae
Email shane@vwdrc.com
Shane started racing in 2007 in his US import Type 2 Westfalia and has joined the committee for the 2009 season. One of the highlights of 2008 was Shane running a perfect ET at Summer Nationals and being voted RNJ Motorsport 'Car of the Meeting' and as part of his team 'Crazy Canuck Racing' was the host of the annual Racers Party at Bug Jam.
Sportsman Class Representative
Polly Naylor
Email polly@vwdrc.com
Polly has been racing in the VWDRC since 2007, in 2008 she was runner-up in the Avon Park VW Sportsman championship and was elected to the committee for the 2009 season. Her racecar – a Wizard Roadster is currently in the 'works' and she hopes it will see the light of day before she retires!
While the work continues on the Wizard, Polly has been campaigning her daily driver, which for the past 2 seasons has been a Mk3 Polo GT, although for the 2009 season, she has upgraded to a Mk2 Golf GTi.
Pro Class Representative
Luke Stevenson
Email luke@vwdrc.com
Luke is a passionate supporter of both the sport and the club, and is new to the committee for 2009. He is aiming to propel 'Major Lucky' his spaceframed MK2 Golf into the 9's by 2010 and in doing so, hoping to give current Pro champion James Hodson a run for his front-wheel drive money!
Alternate Engine Representative
Ian Huggan
Email huggy@vwdrc.com
Ian 'Darkside' Huggan has been a leading light in the development of Subaru power in VW's over the past 5 years. Whilst building his racecar, Ian used his T3 work van to compete in the championship, with the help of a dose of Nitrous Oxide! This will be his second year on the committee
Technical Officer
Danny Allen
Email danny@vwdrc.com
Taking some time out from racing in 2009 to look after his new son Danny has gratefully stayed on as a technical advisor for us.
Submitted by VWDRC on Tue, 09/12/2008 - 21:39.
This weekend saw the 2008 AGM, where we officially crowned our champions and commended our runners-up, well done to James, Scott and Spencer for their victories and Phil, Chris and Matt for their excellent runner-up performances.
It was a winning weekend for James Hodson who also netted Rookie Of The Year, Wagenmeister Driver Of The Year and RNJ Motorsport Car Of The Year! Good work James, quite a collection!
Abi Tether looked very surprised as outgoing chairman Brian Burrows announced she had won the Becky Sutton memorial award for services to the club, a huge well done and thank you to Abi.
We also elected our 2009 committee, which will consist of Danny Allen, Chris Bray, Richie Grant, Ian Huggan, Paul Jackson, Polly Naylor, Luke Stevenson, Shane Rae and Abi Tether. Committee roles will be discussed and decided at a committee meeting early in the New Year.
The meeting itself was relatively short with only a few points to make people aware of.
Firstly, the VW Alternate Engine class will be merged with VW Sportsman and VW Pro. The affect of this is twofold, firstly to reduce the overall number of classes at the request of the organisers of the events who are trying to reduce the class count for the 2009 season, and also to boost the numbers of entries in the VW Pro and AE classes since this will see many of the AE racers now entering Pro.
Also we want to alert people to some rule changes for the 2009 season. As some have already found out single layer suits are no longer legal, our Frequently Asked Questions section has been updated to reflect this. There are also helmet regulation changes for 2009, Snell certifications are now valid for 12 years, rather than the previous 10, so Snell SA2000 helmets will be valid until 2012. There are also changes to the validity of BS Type A (NOT Type A/FR) in 2009, but more on that once we have confirmed dates.
The 2009 calendar will be published shortly, but the first event is still Easter Thunderball, starting April 9th 2009. Don't mean to scare anyone, but that's only 17 weeks away!
Stay tuned here for more news from the club as and when we have it.
--2009 Committee
Submitted by VWDRC on Sat, 06/12/2008 - 18:20.
Members should all already have this information but in case people have been missed it's that time again!
Sunday 7th December will see the 2008 VWDRC AGM at the usual place, The Marriot Hotel, Eagle Drive, Northampton.
Starting at 12pm the AGM is the ideal place to renew your membership for 2009 and to discuss plans and aims with other racers.
We'll see you there.
Submitted by VWDRC on Mon, 03/11/2008 - 19:16.
The VWDRC would like to offer its biggest congratulations to every single person who has been a part of the 2008 Championship.
Now, to the matter in hand, the final points have been calculated and verified and I can now announce the runners up and winners of the 2008 Championship for Volkswagen Pro, Sportsman and Alt Engine.
VW Pro
Runner up : Phil Norman
Winner : James Hodson
VW Alternate Engine
Runner up : Matt Attwood
Winner : Scott Evison
VW Sportsman
Runner up : Chris Bray
Winner : Spencer Tramm
Submitted by VWDRC on Tue, 30/09/2008 - 22:59.
Here's the provisional 2008 Final Championship Positions...
VW Sportsman
For VW powered cars running 13.00 or slower.
Driver
Easter Thunderball
Big Bang
Spring Speed Festival
Summer Nationals
Bug Jam
Open Sports Nationals
National Finals
Bonus
Total
Spencer Tramm
790
160
350
660
630
170
720
100
3420
Chris Bray
270
520
240
RNJ Motorsport Car of the Event
140
240
630
410
100
2410
Craig Allen
550
270
290
500
160
160
460
100
2330
Polly Naylor
240
210
360
270
230
480
500
100
2180
Adrian Wigley
350
550
320
290
280
250
280
100
2170
Martin Ayton
110
280
280
350
370
450
RNJ Motorsport
Car of the Event
290
100
2120
Russ Weir
520
630
110
350
250
1860
Shane Rae
380
220
140
380
RNJ Motorsport
Car of the Event
Eurodragster
GoldRV
Perfect ET
330
190
100
1740
Helen Williams
230
RNJ Motorsport
Car of the Event
220
170
150
260
220
240
100
1440
Abi Tether
310
210
130
240
RNJ Motorsport
Car of the Event
200
260
RNJ Motorsport
Car of the Event
100
1350
Stuart Hinds
330
790
1120
Paul Day
750
280
1030
David Bridge
300
Eurodragster
GoldRV
Perfect ET
200
120
310
930
Chris Bayliss
190
530
720
Mark Malone
260
240
200
700
Jacob Bailey
260
130
250
640
Richard Merriman
510
510
Brett Mann
270
220
490
Dennis Cox
140
120
110
370
Holly Baldwin
110
240
350
Luke Stevenson
310
310
Dan Smith
270
270
Claire Williams
270
270
VW Alternate Engine
For VW's with non-VW engines.
| Driver | Easter Thunderball | Big Bang | Spring Nationals | Summer Nationals | Bug Jam | Open Sports Nationals | National Finals | Bonus | Total |
| --- | --- | --- | --- | --- | --- | --- | --- | --- | --- |
| Scott Evison | 390 | 250 | | 310 | 560 | 270 | 230 | 100 | 2110 |
| Matt Attwood | 230 | 230 | | 540 | 410 | 110 | 410 | 100 | 2030 |
| Andy Raw | 620 | 160 | | 120 | 250 | 420 | 350 | 100 | 2020 |
| Mark Skeen | 410 | 310 | | 130 | 240 | | 240 | | 1330 |
| Spencer Tramm | | 610 | | | | | 700 | | 1310 |
| Ian Huggan | 240 | 120 | | 290 | 120 | | 220 | | 990 |
| Laura White | | 140 | | | | | | | 140 |
| Paul Braithwaite | | | | | 130 | | | | 130 |
| Darryn Coleman | | | | | 110 | | | | 110 |
VW Pro
For VW powered cars running 12.99 or quicker.
Driver
Easter Thunderball
Big Bang
Spring Nationals
Summer Nationals
Bug Jam
Open Sports Nationals
National Finals
Bonus
Total
James Hodson
110
580
470
670
470
530
100
2930
Phil Norman
460
220
380
1060


Russ Fellows
310 RNJ Motorsport
Car of the Event
330
220
860


Paul Herbert
680
120
800


Steve Parfitt
220
380
600


Mick Geraghty
450
130
580
Donald Harvey
230
250
480


Paul Jordan
110
110
110
140
470


Colin Jardine
390
390


Jason Aldred
220
110
330


Rich Merriman
110
210
320
Justin Rivett
140
130
270


Danny Wharton
260
260


Peter Cristie
200
200


Brian Burrows
150
10
160


Glynn Morgan
120
120


Toby Wright
110
110
Submitted by VWDRC on Tue, 23/09/2008 - 14:18.
This is it! Make sure you get yourself up to Santa Pod for the last race of the year, the 2008 National Finals.
After the rain affected European Finals a few weeks ago the Santa Pod event organisers decided to pull a few strings and arrange a bit of a spectacle for National Finals. A Nitro Shoot-Out including night-time fuel session will now take place over the 2 day meeting comprising 6 Fuel cars – 3 Top Fuel Dragsters and 3 Fuel Funny Cars! The six drivers in the Nitro Shoot-out will be John Spuffard, Risto Poutiainen, Thomas Nataas, Barry Sheavills, Linda Thun Tønseth and Gary Page!
Now add to this the final round of all the UK's premier sportsman championships, including the VWDRC and how can you miss it!!?
Whilst Spencer Tramm and rookie James Hodson are already champions in VW Sportsman and VW Pro respectively VW Alternate Engine is still open, can Andy Raw's ever improving 900bhp Funny Car catch Scott Evison's Subaru powered bug!?
It's not all decided in the other classes either, late season form has seen Chris Bray rise to second in VW Sportsman, but Adrian Wigley is only 10 points behind and Craig Allen and Martin Ayton are both more than in with a shout! Can Chris carry on his winning ways or will one of the contenders take the second place spot? There's sure to be some action in VW Pro too, Russ Fellows in his 9 second street car and Phil Norman in the beetle pickup will both be fighting tooth and nail for second place as James tries to stamp his authority on the championship and Rich Merriman returns in 'the unicorn' with yet more power from a new bigger turbo setup...
It's all going off this weekend at Santa Pod. Be there.